Hola!!
Friends & family, sponsors, community members, acquaintances, stickybeaks, audience members, artists and others! Welcome to the fold, as we move into gear and get the pedal to the metal in preparation for a truly amazing 2015 Festival.
2015 will mark the 40 year anniversary for the Castlemaine State Festival, and our 20th Festival – so celebrations are in order for all who have been in anyway involved in the ride. It's going to be an amazing 10 days, full of surprises!

OUR AMAZING VOLUNTEERS
This week, on the 25th anniversary of Volunteer Week we say a HUGE THANK YOU to our fabulous team of over 250 festival volunteers who collectively worked over 6,223 hours for the festival.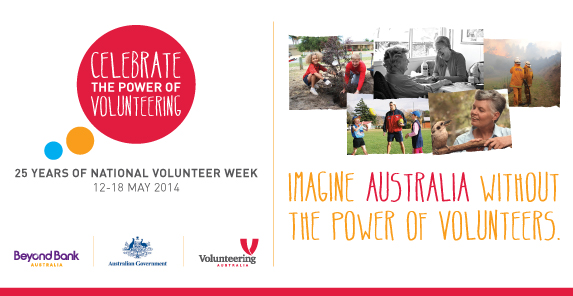 We honestly couldn't have done it without you.
New forms for 2015 will be online soon, and we look forward to welcoming back and meeting some new people interested in joining our hardworking team for 2015.
FROM THE STAFF FILES
Martin Paten, Festival Director returns from a trip to Cuba, where he has been sourcing performances for the 2015 Festival and we look forward to hearing from him at our upcoming Friends & Patrons event.
Our new General Manager, Helen Baker will be joining us from next week , all the way from the UK – we are all very excited to meet her, and set her straight to work!
Elissa O'Connor – our not-so-new-anymore-but-still-a-bit-new Development Manager has settled into her position with a successful application to the Helen McPherson Smith Trust for $30,000 towards the 2015 Education Program – an amazing success!
We welcome back for 2015 Deborah Ratliffe, curator for the 2015 Visual Arts Program, Jude Anderson, Creative Producer for Opening Night and Angelica Clunes who moves across from Business Manager into Artistic Programming of the Community Program & Marketing & Volunteers Management.
We are excited to be working with Jim Austin in his capacity of Production Manager, and we welcome both him & his family to Castlemaine!
Finally, our team would not be the same without the hard work of both Val Victor-Gordon who manages our Patrons & Donors Program, and Kerry Bourke who negotiates our book-keeping. We are glad to have you both back for 2015.
We look forward to welcoming the many others who will join us along the way!
SECRET PROGRAM INSIGHTS
Keep it quiet, but word on the street is that the Final Day will be moving BACK to the Botanical Gardens for a day of picnicing, great food, fine company, music & celebration.
Another newsflash: post inclusion in the 'Melbourne Now' exhibition at the National Gallery Victoria with installation 'The Gallery of Air', we are thrilled to be able to announce esteemed artist Patrick Pound will be presenting his work 'Museum of Holes' as part of the Visual Arts Program for the 2015 Festival in the Castlemaine Art Gallery and Historical Museum. Exciting Times.
Now hush down, and forget I said anything…
UPCOMING EVENTS & INVITATIONS
Friends & Patrons
The festival is hosting a 'Friends & Patrons' event on the 14th June where Martin will be speaking about his time away in Cuba & presenting some insights into the 2015 Program, if you are interested in being amongst the first to know contact us for more info on either the Friends or the Patrons Programs.
Meeting with Shadow Arts Minister
Open invitation for anyone who is interested in hearing Shadow Arts Minister Hon. Mark Dreyfus QC MP speak about arts in Regional Australia.
To be held at Lot 19, Langslow Street, Castlemaine
22 May 2014 from 11am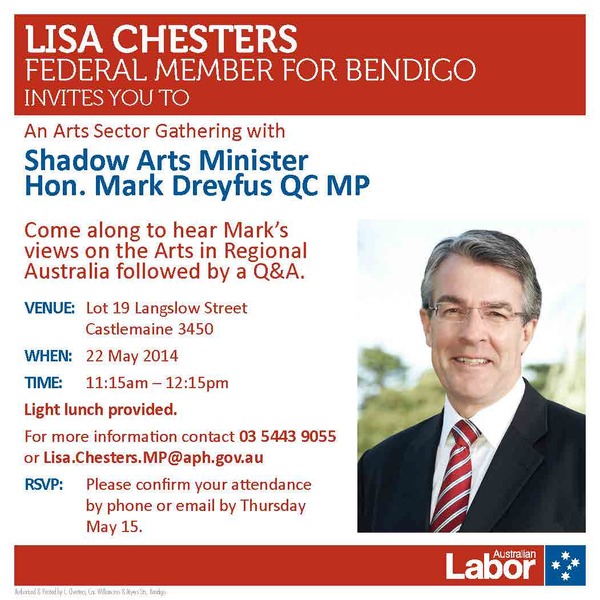 Castlemaine Jazz Festival
The first Castlemaine Jazz Festival will be held on the long weekend of 7th – 8th June 2014.
Volunteers are needed to help with box office, front of house, stage management, ambassadors, merchandise, shuttle bus drivers. If you are interested in helping (or attending) go to:
www.castlemainejazzfestival.com.au
TALK TO US
Facebook: www.facebook.com/pages/Castlemaine-State-Festival
Twitter: twitter.com/#!/statefestival
Internets: www.castlemainefestival.com.au
Email: information@castlemainefestival.com.au
And, most importantly,
See you at the Festival!
13 – 22 March 2015 | 9 months and 27 days from today