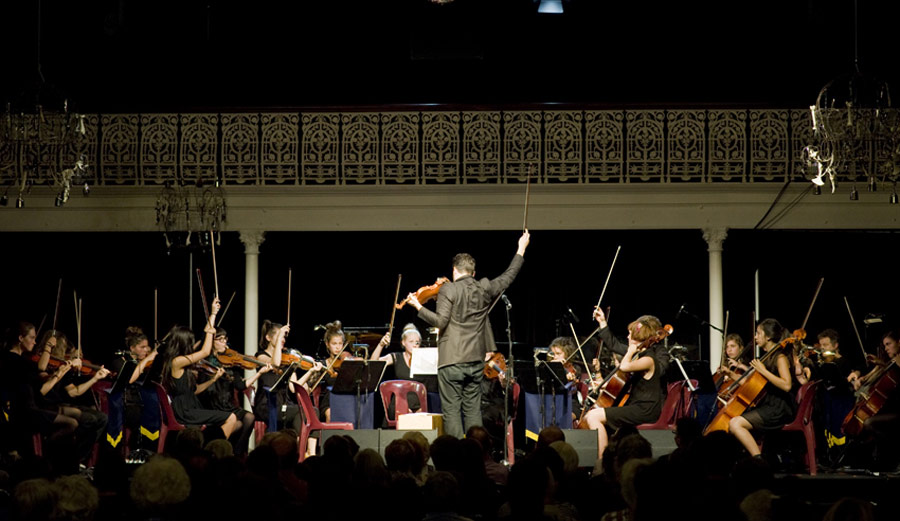 Castlemaine Secondary College Orchestra & Cuban artists El Son Entero
NEWLY COMMISSIONED WORK
The Castlemaine State Festival's International Arts Education Mentorship brings inspiring musical educators from across the globe together with talented young people from central Victoria.
The Festival is privileged to have eminent Cuban musicians, composers and musical arrangers Michel Hernández, Daulyn W Aldana, Randy Veitía Godínez and Demis Yero Álvarez as the 2015 music mentors. These artists come from the central Cuban province of Camaguey, renowned for its musical passion and music education. Over a period of time leading up to the 2015 Festival, these respected artists will share the proud history of Cuban music through a series of workshops with Castlemaine Secondary College's young musicians.
The culmination of this mentorship and cultural exchange will result in the 2015 Dominique Segan Emerging Artist Mentorship Concert. Featuring a spirited and energetic program of music influenced by Cuban roots and rhythms, it's a guaranteed uplifting experience for both musicians and audiences.
The event will also include the announcement of the prestigious 2015 Dominique Segan Emerging Artist Mentorship Award. In memory of their late daughter Dominique, the Castlemaine State Festival's founding patron Berek Segan and his wife Marysia will present the award together with a cash prize donated by them.
Acknowledgments
Berek and Marysia Segan, Marc and Eva Besen, Terri Baigent