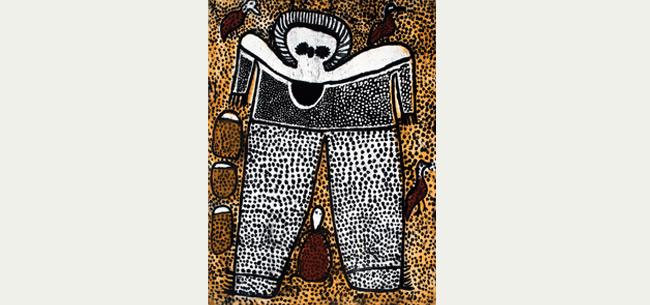 Beyond Capricorn

Jean Baptiste Apuatimi, Djambu (Sambo) Barra Barra, David Bosun, Butcher Cherel (Janangoo), Amy Johnson, Kitty Kantilla (Kutuwalumi Purawarrumpatu), Lily Karadada, Louis Karadada, Regina Karadada, Rosie Karadada, Tommy May, Maryanne Mungatopi, Janice Murray, Garry Namponan, Bruce Nabegeyo, Peter Skipper, Freda Warlapinni, Pedro Wonaeamirri and Thompson Yulidjirri
Beyond Capricorn features limited edition prints produced by Australian Print Workshop in collaboration with Indigenous artists from communities located above the Tropic of Capricorn.
This exhibition showcases a selection of key works resulting from Australian Print Workshop projects with artists from Aurukun (Qld); Bathurst Island (NT); Fitzroy Crossing (WA); Kalumburu (WA); Melville Island (NT); Moa Island, Torres Strait Islands; Ngukurr (NT); and Oenpelli (NT).
Since the early 1990s, Australian Print Workshop has worked collaboratively on projects with Indigenous artists and communities throughout Australia.
Over the years, Australian Print Workshop has developed important on-going partnerships with artists from as far afield as the Kimberley, Arnhem Land, the Tiwi Islands, Central Australia, Torres Strait Islands, Cape York Peninsula and south eastern Australia.
Australian Print Workshop frequently travels to remote communities in these regions to work on site with artists, often setting up a 'bush workshop' to enable artists to engage with the print medium for the first time.
As interest in the print medium has grown, artists have embarked on more ambitious projects, often visiting Melbourne specifically to work at Australian Print Workshop to produce more complex work.
Works produced as a result of Australian Print Workshop collaborations have been exhibited widely throughout Australia and overseas, and are represented in important collections around the world, including in the National Gallery of Australia, National Gallery of Victoria, British Museum (London) and Musee du quai Branly (France).
VENUE
Castlemaine Market Building
44 Mostyn St, Castlemaine
DATE & TIMES
Friday 1 & Saturday 2 April 10am-8pm, 3-10 April 10am-5pm
ADMISSION
ACCESS
| | | | | | | | | | |
| --- | --- | --- | --- | --- | --- | --- | --- | --- | --- |
| FR | SA | SU | MO | TU | WE | TH | FR | SA | SU |
| 1 | 2 | 3 | 4 | 5 | 6 | 7 | 8 | 9 | 10 |
Posted in Free, Friday April 1st, Friday April 8th, Monday April 4th, Saturday April 2nd, Saturday April 9th, Sunday April 10th, Sunday April 3rd, Thursday April 7th, Tuesday April 5th, Visual Arts, Wednesday April 6th