All 'Film' events.
Featuring the work of local, central Victorian filmmakers and Indigenous media organisations, these short films explore various aspects of cultural pr . . .
Full Event Details
Punctum and Aphids-mentored artist Antoinette J. Citizen invites you to the screening of three new video works featuring science fiction interventions . . .
Full Event Details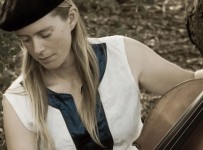 Kristin Rule's new release, The Knife that Cuts a Tear, reaches deeply into the hearts and minds of listeners from all walks of life. A composition . . .
Full Event Details