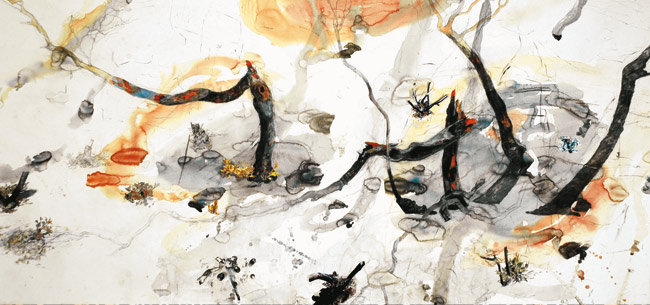 Figuring the Earth

Judy Holding, John Wolseley and Mimih figures from The Gabrielle Pizzi Collection
Above: JOHN WOLSELEY  New growth beyond Sunset Track 2006-07  Watercolour, carbonised wood and graphite on paper  Courtesy of the artist and Australian Galleries.
Mimih Figures — Susan Marawarr, Jimmy Njiminjuma, Kevin Djimarr, Mick Kubarkku, John Mawurndjul, Jimmy Bungurru, Jimmy An.gunguna, Owen Yalandja and Crusoe Kurddal
Figuring the Earth brings a focused integration of works of Indigenous and non-Indigenous Australian artists whose images and sculptural objects attest to the enduring power of the land to shape who we are as people and how we think. Figuring the Earth suggests that artists are simultaneously depicting — configuring — images related to the world, and in doing so are trying to 'figure it out'; to come to grips with landscape, its mysteries, our place in it, our organic connection to the earth and other species with which we share. Judy Holding and John Wolseley have long-established practices of working directly in remote landscapes to absorb and evoke something of the primal force and beauty of places. For the various Arnhem Land artists in this exhibition, the land is formed and inhabited by spirit ancestors brought into material reality as a community of profoundly moving sculptural objects.
VENUE
Castlemaine Market Building
44 Mostyn St, Castlemaine
DATE & TIMES
Friday 1 & Saturday 2 April 10am-8pm, 3-10 April 10am-5pm
ADMISSION
ACCESS
| | | | | | | | | | |
| --- | --- | --- | --- | --- | --- | --- | --- | --- | --- |
| FR | SA | SU | MO | TU | WE | TH | FR | SA | SU |
| 1 | 2 | 3 | 4 | 5 | 6 | 7 | 8 | 9 | 10 |
Posted in Free, Friday April 1st, Friday April 8th, Monday April 4th, Saturday April 2nd, Saturday April 9th, Sunday April 10th, Sunday April 3rd, Thursday April 7th, Tuesday April 5th, Visual Arts, Wednesday April 6th