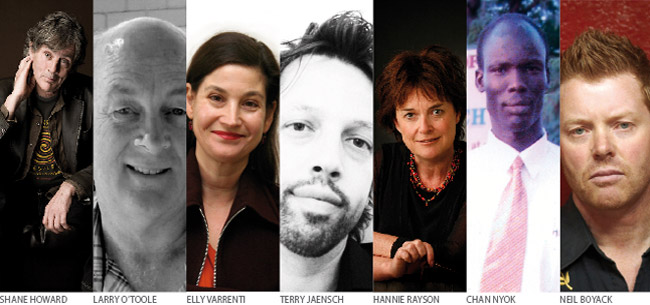 It Happened to Me


Funny, mesmerising, poignant, inspiring, unexpected — four nights of brilliant storytelling from people it really did happen to. Guests include celebrated actress Helen Morse, Tivoli Lovely Vicki Charleston, beloved singer–songwriter Shane Howard, perceptive playwright Hannie Rayson, Indigenous historian and author Tony Birch, novelist and raconteur Shane Malony, columnist Mark Dapin, Victorian Opera musical director Richard Gill and radio journalist Elly Varenti. Together with surprise guests, Festival artists and Castlemaine's own local identities, such as hot rod specialist Larry O'Toole and Sudanese Chan Nyok, these true life storytelling sessions will celebrate the elemental power of the spoken word.
Stories from Backstage
The show behind the show — the unseen world of theatre as experienced by the artists themselves. For one night only, you'll be privy to the world of work, machinery, anxieties, egos, disasters and triumphs, as played out behind the proscenium arch and beyond, as some of our brightest stage stars step up to the microphone to tell it like it is.
Featuring:
Hannie Rayson
Hannie Rayson is one of Australia's most important playwrights and an award-winning author of 11 plays, including Inheritance and Hotel Sorrento. Inheritance has played in Melbourne and Sydney, won two Helpmann Awards, and was adapted as a four-part radio play for ABC Radio National in 2007.
Vicki Charleston – Tivoli Lovely.
The Tivoli was the major venue for variety theatre and vaudeville in Australia for over 70 years. The circuit grew to include Melbourne, Adelaide, Brisbane and Perth by the turn of the century, promoting both local and international musical, variety and comedy acts. It featured a broad spectrum of vaudeville acts including dancers, acrobats, comedians and ventriloquists and the Tivoli was famous for its scantily-clad chorus girls, who were colloquially known as "Tivoli Lovelys".
Helen Morse
Helen Morse has worked with many companies including Melbourne Theatre Company, The Ensemble, The Independent, Nimrod, Marian Street, Sydney Theatre Company, Hunter Valley Theatre Company, Queensland Theatre Company, Harvest Theatre Company (South Australia) and the State Theatre Company of South Australia. Her notable screen performances also include roles in the film Picnic at Hanging Rock (1975) and the television miniseries A Town Like Alice (1981).
Massimo Scattolin
Massimo Scattolin is widely regarded as one of the finest classical guitarists of our time. He specializes in performing the most challenging concertos for guitar and orchestra. Italian, Massimo will share stories from his richly varied life as a performer which has included performing with the original Buena Vista Social Club. See Festival program for details of Massimo's performance.
How I Got Here
The roadmap to where you are now is the sum of all parts —  the roads travelled, divergent, intersecting, well trod or newly discovered. From choices made well or regretted, to events that have been entirely out of their hands, these are the unpredictable paths that led tonight's storytellers to a location, a moment, a realisation…
Shane Howard
In 1982, Shane Howard's massive anthem "Solid Rock" from the album "Spirit of Place", (recorded with his legendary band "Goanna"), reverberated across the airwaves and still does today. A prolific songwriter, he and his songs continue to champion the cause of the underdog, provide meaningful insights into the human spirit and interpret the Australian landscape in a way that has helped to build a bridge between Aboriginal and non Aboriginal peoples.
Neil Boyack
Neil Boyack was born and adopted in 1967.  Married in Las Vegas.  Plays music in local hillbilly-rock band Jim Crow.  He writes, and writes, and writes. Transactions, his last short story collection, through The Vulgar Press, saw critical acclaim. New story The Battles appears in Torpedo Volume 5.
Carolyn Neilson
Glasgow born, underpaid 'Ranga' mother of three boys, Caroline is passionate about not losing the natural art of storytelling and its place around the dinner table.
Jida Gulpilil Murray
Jida Murray-Gulpilil is working with the Castlemaine State Festival as the cultural representative of the Dja Dja Wurrung people. Through his father – David  Gulpilil, he is also descended from the chief dancers of the Thunder and Lightning people of the Northern Territory.
A Sense of Home
A dream, an idea, a set of plans, a place, a refuge: any way you construct it, home is where you find it. Come and listen to some unforgettable accounts of what's lost and found in the process.
Terry Jaensch
Terry is an Australian poet/monologist/actor. His first book of poetry, Buoy, was published in 2001 by Five Islands Press. In 2004/05 he collaborated with Singaporean poet Cyril Wong to produce Excess Baggage & Claim, which was launched in 2007. He has been broadcast and interviewed on radio (notably The Conversation Hour with Jon Faine) and in 2004 was commissioned to write and record 15 monologues based on his childhood in a Ballarat orphanage for Life Matters, ABC Radio National. Recently he was awarded first prize in the Melbourne Poets' Union International Poetry Competition for his poem Galah.
Jarnil
Jarnil is a refugee from Afghanistan. He arrived alone in Castlemaine, where the townsfolk held a fundraiser to assist his return to Afghanistan to collect his family. He and his family now live in Castlemaine where he has a market stall at the Wesley Hill Market.
Chan Nyok
Chan Nyok did not get the chance to go to school until he was 15. When the war came, he had to leave school; the schools were closed and many teachers were killed….
Chan's story is a story common to many African Australians living in Castlemaine.
Tony Birch
Tony Birch is a Koori historian who teaches Indigenous History at the University of Melbourne. From 1997 to 1999 he held a part-time position as Senior Curator, Indigenous Cultures Program, at Museum Victoria. He is a widely published writer of poetry, fiction and history.
Elly Varrenti
Elly Varrenti has been in the performing arts world for many years. She has also spent the past 15 years as a freelance radio broadcaster for ABC 774 and Radio National and continues to make features and write opinion and think pieces for Radio National and The Age. Her book This is Not my Beautiful Life was published by Penguin in 2008 and a collection of her essays is due for publication late 2011. She is currently the Coordinator of Professional Writing & Editing at Box Hill Institute where she specialising in teaching memoir and short story.
You Wouldn't Believe It
But it's all true, and tonight you're going to hear it from the masters. Unbelievable coincidences, hair-raising suspense and plain old hilarity preside tonight in our final session of It Happened to Me. Make sure you're there for this unrepeatable night of tall tales.
Jarad Henry
Writer of gritty and "hard boiled" Australian crime novels drawn from his ten years of experience in the criminal justice system.
Shane Maloney
Shane Maloney was awarded the Crime Writers' Association of Australia Lifetime Achievement Award in 2009 for his Murray Whelan novels.
Larry O'Toole
Established in 1977, Graffiti Publications is a family business committed to publishing a range of magazines, which promote Street Rodding as a hobby and business. Larry and Mary O'Toole are dedicated rodders whose passion and enthusiasm drive Graffiti!
Mark Dapin
Irreverent Good Weekend columnist, ex-editor-in-chief of Ralph magazine, winner of the Ned Kelly award for his "explosive, gritty, hilarious" fiction thriller King of the Cross and accidental Australian sumo champion.
VENUE
Mechanics Lane Castlemaine
DATE & TIMES
Saturday 2 April 9.30pm
Stories from Backstage

Monday 4 April 7.30pm
How I Got Here

Wednesday 6 April 7.30pm
A Sense of Home

Friday 8 April 9.30pm
You Wouldn't Believe It
ADMISSION
$15 / $12, $50 / $45
Single session Tickets available at the venue on the day & All Sessions at Capital Box Office
ACCESS
Wheelchair access. Adult.
| | | | | | | | | | |
| --- | --- | --- | --- | --- | --- | --- | --- | --- | --- |
| FR | SA | SU | MO | TU | WE | TH | FR | SA | SU |
| 1 | 2 | 3 | 4 | 5 | 6 | 7 | 8 | 9 | 10 |
Posted in Friday April 8th, Literature Storytelling, Monday April 4th, Saturday April 2nd, Wednesday April 6th