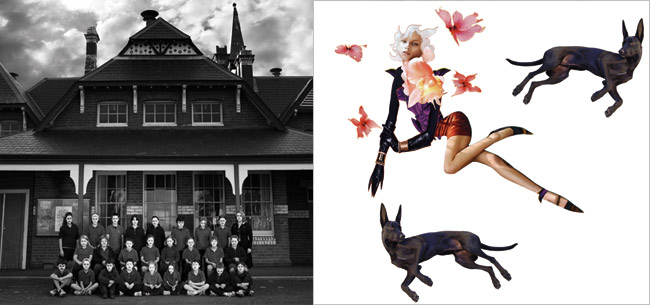 The Artists Room

Aleks Danko, Melissa & Steven Proposch, Emily Floyd, Jill Orr
Above: Jill Orr  Vision 2009  Photograph (left). Melissa Proposch  Hedony and her Hounds 2010  Digital collage (right).
The Artists Rooms are a series of site-response works. Local and international visual artists stretch the contemporary art boundaries through performance, installation, prints, film and paste-up.
Emily Floyd's knock-out installation The Temple of the Female Eunuch owes as much to great literature as it does to trends in modern sculpture. There are over 60 inscribed wooden meccano-like pieces of a meandering beauty, which explore constructs of feminism and concepts from the lexicon of modern thought.
Aleks Danko and Jill Orr are both highly regarded in contemporary art practice for site-response and performance work. Danko's lyrical nonsensical and hard-hitting 'words' tell of another way to exist as artist. 'What's the point' is a droll classroom spoof, or is it? An accompanying Aleks Danko performance will undoubtedly raise the consciousness of those who skipped class and always wondered what they missed. Orr grapples with the balance and discord that exists at the heart of relations between the human spirit, art and nature. Helen Vivian wrote 'Jill Orr is a fiery artist and her work expresses the beauty, power and spiritual depth that is her trade mark.'
Local artists and editors of TROUBLE magazine, Melissa and Steven Proposch, make an entrance into the hallowed hallways and stairwell with disparate and surreal papery images of Hedony and her Hounds. Working from the Steven Proposch narrative, collages form the basis of the monotype etchings and collagraph paste-ups by Melissa Proposch.
A parallel performance will accompany the installation
by Aleks Danko Saturday 2 April 11.30am-12.30pm
VENUE
Castlemaine Continuing Education
30 Templeton St Castlemaine
DATE & TIMES
Friday 1 & Saturday 2 April 10am-6pm, 3-10 April 10am-5pm
ADMISSION
ACCESS
| | | | | | | | | | |
| --- | --- | --- | --- | --- | --- | --- | --- | --- | --- |
| FR | SA | SU | MO | TU | WE | TH | FR | SA | SU |
| 1 | 2 | 3 | 4 | 5 | 6 | 7 | 8 | 9 | 10 |
Posted in Free, Friday April 1st, Friday April 8th, Monday April 4th, Saturday April 2nd, Saturday April 9th, Sunday April 10th, Sunday April 3rd, Thursday April 7th, Tuesday April 5th, Visual Arts, Wednesday April 6th