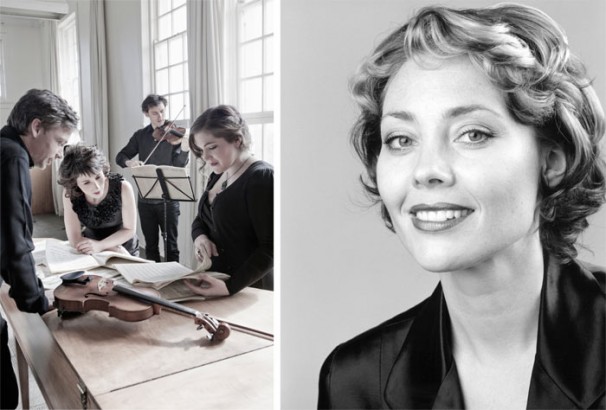 Australian String Quartet and Tiffany Speight


Join the Australian String Quartet and award-winning Australian soprano, Tiffany Speight, for a brave and evocative program of music by Andriessen, Respighi, Golijov and Brahms.
The concert will open with Louis Andriessen's Facing Death (1990), in which the composer dares four string instruments to imitate Charlie Parker's alto saxophone. The result is bebop for strings; astringent, exhilarating and very fast
Tiffany Speight will join the Quartet for Respighi's dramatic and declamatory setting of Percy Bysshe Shelley's poem Il tramonto — The Sunset and two stunning works by Osvaldo Golijov, Colourless Moon and How Slow the Wind. The program will conclude with Brahms' String Quartet No. 2 Op. 51, in which Brahms takes liberties with form and tempo, contrasting lyrical calm with dramatic twists and moments of turbulence — beauty emerging from struggle.
One of Australia's pre-eminent chamber ensembles, the Australian String Quartet features a stellar line-up, comprising Kristian Winther and Anne Horton on violin, Stephen King, viola, and Rachel Johnston, cello. The members of the Australian String Quartet are privileged to perform on a matched set of instruments hand-crafted by Giovanni Battista Guadagnini between c.1743–1784 in Italy.
Among the Quartet's 2012 performance highlights were its festival appearances at the Trasimeno Music Festival in Italy, Canterbury Festival in the UK and the Automne Musical d'Ollon in Switzerland.
The Festival is thrilled to have Tiffany Speight as part of this performance collaboration with the Australian String Quartet. Tiffany is a Helpmann and Green Room Awardee, a recipient of the Vienna State Opera Award and is heavily in demand on the Australian and international opera circuit.
'…a powerful new dynamism…'
Graham Strahle, THE AUSTRALIAN, 2012
VENUE
25 Lyttleton Street, Castlemaine
DATE & TIMES
ADMISSION
DURATION
DISABILITY
ACKNOWLEDGEMENTS

FOOD & BEVERAGE
Light meals, snacks and full bar from 5pm till late
Closed during performances
| | | | | | | |
| --- | --- | --- | --- | --- | --- | --- |
| M | T | W | T | F | S | S |
| | | | | 15 | 16 | 17 |
| 18 | 19 | 20 | 21 | 22 | 23 | 24 |
Posted in Music, Saturday March 16th