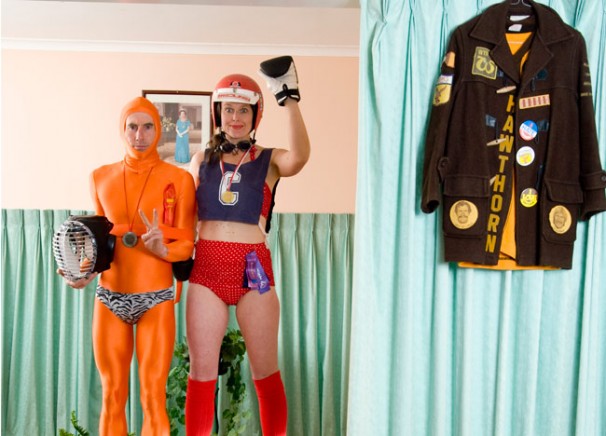 The Clubrooms


Need a warm up and wind down pre and post festival events?
Come to THE CLUBROOMS where you can warm up for an evening of Festival performances or wind down when the performances are done and dusted. Kick off, kick back and have a ball backstage at the Castlemaine Town Hall.
Sporting a rub-a-dub bar and grub, The Clubrooms have a trophy winning atmosphere and A-grade performances backstage, on stage, and beyond – warm ups, coaching, coaxing, crazy dance, cool tunes and hip moves, The Clubrooms combine live art with Allstar attitude, cabaret with locker room cheek, deep heat and Dencorub.
Featuring the Allstars, The Black Diamonds, Tuba, Flap! and guest players from the festival "bench".
Come celebrate with the team 'til the stars go home.
VENUE
Rear, Castlemaine Town Hall
25 Lyttleton Street, Castlemaine
DATE & TIMES
The Clubrooms are open across the Festival 5:30pm till late

The Clubrooms will be CLOSED during Town Hall music performances and will re-open after performances.

Dribbling Allstar performances at the Clubrooms:
Saturday 16 March, 5.30pm
Thursday 21 March, 6.15pm
Friday 22 March, 6pm
Saturday 23 March, 6.15pm

ADMISSION
DISABILITY
ACKNOWLEDGEMENTS

FOOD & BEVERAGE
Light meals, snacks and full bar from 5.30pm till late, Closed during performances
| | | | | | | |
| --- | --- | --- | --- | --- | --- | --- |
| M | T | W | T | F | S | S |
| | | | | 15 | 16 | 17 |
| 18 | 19 | 20 | 21 | 22 | 23 | 24 |
Posted in Castlemaine Created, Clubrooms, Dance, Free, Friday March 15th, Friday March 22nd, Monday March 18th, Music, Saturday March 16th, Saturday March 23rd, Sunday March 17th, Sunday March 24th, Theatre, Thursday March 21st, Tuesday March 19th, Wednesday March 20th