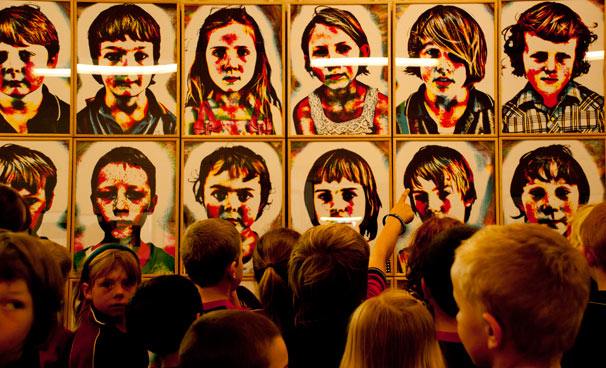 Schools Program


The Festival once again welcomes all 1500 primary school students from across Mount Alexander Shire for four days of jam-packed art experiences with outstanding local, national and international artists.
The Man Who Planted Trees
Puppet State Theatre, Scotland
This beautiful theatrical adaptation of Jean Giono's environmental classic tells the inspiring story of a shepherd who plants a forest acorn by acorn, thereby transforming a barren wasteland. As much a touching tale as a hilarious puppet show, The Man Who Planted Trees shows us the difference that one man (and his dog!) can make to the world.
The Children's Choir
James Rigby and Jane Thompson
Harnessing voices en masse through song is a powerful, joyful collaborative experience. The sense of being part of 'one voice' will stay with participating children for a long time. During the first term of 2013, children will explore their own voices and their collective voice, learning and rehearsing a specially written song for the final day of the Festival. James Rigby and Jane Thompson, local and highly respected song-makers and choir leaders, will be engaging their infectious enthusiastic style, and teaching songs to share as part of the Festival Finale in Victory Park on Sunday 24 March.
Concrete Poetry
Paul Allen
Concrete Poetry is a playful and powerful communication tool for expressing ideas. Combining words, images, shapes and typography, concrete poems are often humorous and always unexpected — a pleasure for the mind, heart and eye.
Children will be taken on an adventurous journey into the world of concrete poetry, to learn about this lesser-known artform, and make poems with respected local artist and teacher Paul Allen, and fellow artists. Workshops will involve creating concrete poems that respond to the festival theme 'Elemental' by exploring the four elements: earth, water, wind and fire. A preparation guide will be provided to teachers at the beginning of first term so that students can familiarise themselves with this imaginative artform and language.
VENUE
Mostyn Street, Castlemaine
DATE & TIMES
Tuesday 19 to Friday 22 March 9.30am to 3pm
ADMISSION
ACCESS
DISABILITY
ACKNOWLEDGEMENTS

| | | | | | | |
| --- | --- | --- | --- | --- | --- | --- |
| M | T | W | T | F | S | S |
| | | | | 15 | 16 | 17 |
| 18 | 19 | 20 | 21 | 22 | 23 | 24 |
Posted in Castlemaine Created, Children, Friday March 22nd, Thursday March 21st, Tuesday March 19th, Wednesday March 20th