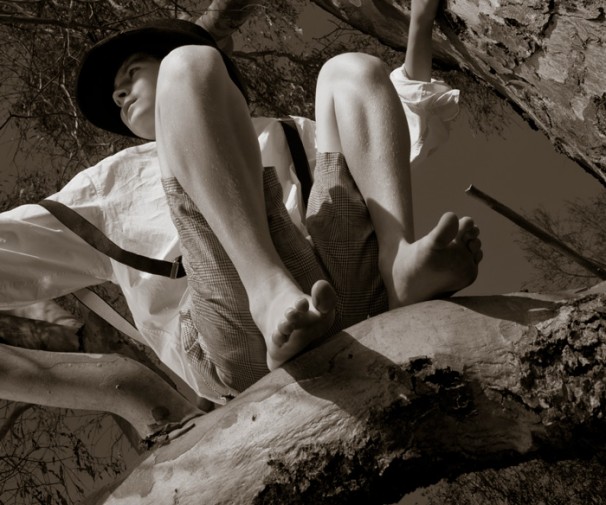 The Republic of Trees: a Tale Between Earth and Sky

Quarteracreblock Productions

'Do you remember, sitting up there as a child, looking down on the world below…? And didn't all those grown-ups and all their grown-up cares look so petty and small? You could squash them with your fingers.

If only people could see things from up here, even if just for a day, how different our lives would be..!'
It is a pleasure to present the 2012 George Fairfax New Theatre Award winning play The Republic of Trees: a Tale Between Earth and Sky, a multi-artform promenade theatre adaptation of Italo Calvino's Il Barone Rampante (Baron in the Trees).
Presented amidst the tree-scape of the historic Vaughan Springs Reserve, an intriguing story unfolds: one fine evening, Cosimo Piovasco di Rondò, the son of a wealthy Baron, climbs a tree in his backyard and swears never to come down.
Not ever.
And the funny thing is, he doesn't…
Ranging from the swashbuckling to the intellectual and the amorous, The Republic of Trees is unique arboreal theatre — perhaps 'the ultimate tree change'. A promenade twilight performance will take the audience on a travelling theatre experience through the dramatically beautiful Vaughan Springs Reserve. The action takes place as much in the trees above the audience as on the ground.
This exceptional work — 9 years in the making — is unmissable theatre.
Adapted from the original Calvino by multi-award-winning Australian author Wayne Macauley, and featuring a stellar cast of some of Australia's circus and physical theatre glitterati, The Republic of Trees will resonate well beyond the performance itself.
Produced by Quarteracreblock
Written by Wayne Macauley
Directed and Designed by Dan Mitchell
Assistant Director – Susie Dee
Design collaborators – Rod Primrose, Matt Wilson, Geoff Dunstan, Francesca Bussey
Lighting – Gina Gascoigne
Rigging – Geoff Dunstan and Nicholas Dansin
Production Manager – Monique Harvey
Costume – Val Victor Gordon
Live music composed and performed by Chris Lewis and Jenny Thomas.
Performed by Matthew Wilson, Kareena Hodgson, Ian Scott, Nicci Wilks, David Joseph, Tony Morton, Geoff Dunstan, Kate Sherman, Freda Paten, Carl Kurrajong
Special Guests – Thompson's Foundry Brass Band
'How fitting that the world of wonder created by Italo Calvino, told with such charm and poignancy, should become the first recipient of this New Theatre Award. Republic of Trees, in making us look up at what floats above us, turns Calvino's mysterious allegorical story into a living, breathing thing.'
Cate Kennedy, Author and Judge: George Fairfax New Theatre Award
Quarteracreblock acknowledges the indigenous traditional owners in all areas of Australia in which we work. We recognise their continuing connection to land, waterways and community. We pay our respect to them and their culture, and to their Elders past, present and future.
VENUE
Castlemaine Diggings National Heritage Park
DATE & TIMES
Preview Thursday 14 March, 7.40pm Saturday 16 March, 7.40pm Sunday 17 March, 7.40pm Monday 18 March, 7.40pm Thursday 21 March, 7.40pm Friday 22 March, 7.40pm Saturday 23 March, 7.40pm
ADMISSION
$30 / $25 (Preview) $35 / $30
DURATION
ACCESS
Adults and children aged 9 years and above
DISABILITY
ACKNOWLEDGEMENTS

Many Thanks to collaborators Miranda Jacques, Susie Dee, Black Hole Theatre, Vaughan Springs Vineyard, Friends of Vaughan Springs, Guildford Upper Loddon Landcare, Noel Muller Parks Victoria, Circus Oz, Anna Tregloan, Wally Williams and Dislocate Physical Theatre.
FOOD & BEVERAGE
Pre-show wine, beer, soft drinks and BBQ from 6.30pm
| | | | | | | |
| --- | --- | --- | --- | --- | --- | --- |
| M | T | W | T | F | S | S |
| | | | | 15 | 16 | 17 |
| 18 | 19 | 20 | 21 | 22 | 23 | 24 |
Dress for the outdoors! Be prepared for an adventurous night out. Audience advised to wear warm clothing and comfortable footwear.
Posted in Castlemaine Created, Friday March 22nd, Monday March 18th, Saturday March 16th, Saturday March 23rd, Sunday March 17th, Theatre, Thursday March 21st