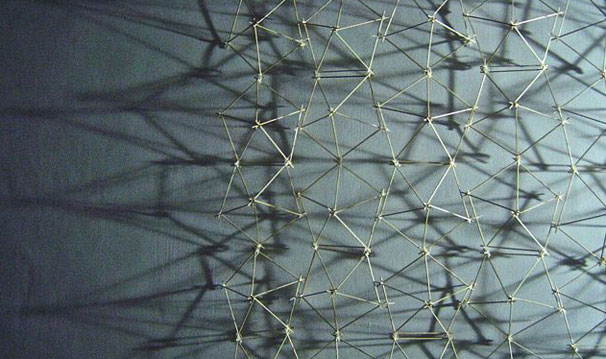 Continuing a long-held fascination with everyday materials and pattern, artist Tim Craker assembles an enormous and varied installation from the most basic of building blocks — gum tree twigs and branches. Collected as fallen bush debris from the local area and assembled into myriad units, the eucalypt twigs form a massive construction within the interior of the Castlemaine Market Building, site of the Festival's Literature Program Collective DNA.
Twig explores and develops the geometry of the pentagon in two and three-dimensional structures, where mathematical perfection and the imperatives of tessellation balance against natural variation and bush-litter chaos. We begin with some basic materials and some rules of combination, but where do we end up? Twig alludes to both the biological and cellular, and to the social and societal, to the connections that exist between our molecules and cells, and to those we have with each other, in networks of family and friends.
Do you twig?
Twig has been created as an integrated artwork within the Festival's Literature Program and will be fully experienced during these special events (see Collective DNA: We Are Made of Stories, Poetry and Song for details).
Elements of the artwork can be viewed at other times during the Festival, prior to performances, during the Castlemaine Market Building opening hours 10am to 5pm.
'…the everyday transformed into something magical and enigmatic…'
Gina Fairley, Asian Art News Nov/Dec 2008
'This is not art… I've got a 7-year old daughter and she could have done this for free and done a better job…'
Oscar Yildiz, Mayor of Moreland City Council, June 2011
VENUE
Castlemaine Market Building
44 Mostyn Street, Castlemaine
DATE & TIMES
Saturday 16 to Sunday 24 March
ADMISSION
ACCESS
DISABILITY
ACKNOWLEDGEMENTS

| | | | | | | |
| --- | --- | --- | --- | --- | --- | --- |
| M | T | W | T | F | S | S |
| | | | | 15 | 16 | 17 |
| 18 | 19 | 20 | 21 | 22 | 23 | 24 |
Posted in Free, Friday March 22nd, Monday March 18th, Saturday March 16th, Saturday March 23rd, Sunday March 17th, Sunday March 24th, Thursday March 21st, Tuesday March 19th, Visual Arts, Wednesday March 20th