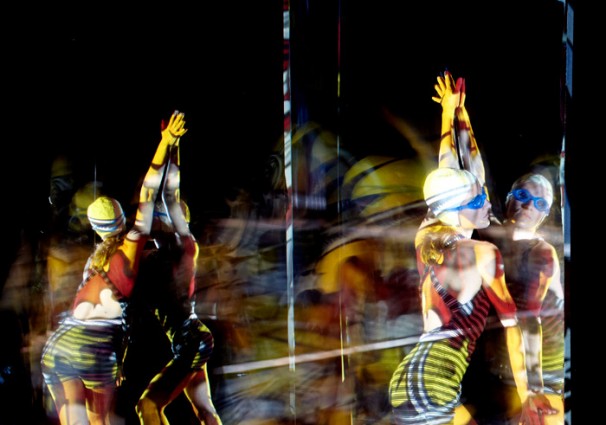 With renowned award-winning Danish children's theatre company Carte Blanche, dive into a puzzling world of water and visual echoes through Water Reflection, where questions are asked about the very meaning of life.
Enter into an evolutionary journey starting with the very first unconscious being, and progress to the present day where we (humans) live with an acute sense of self-awareness (sometimes). Be challenged about the origins of life itself. Discover a puzzling world, where the unsettling lurks just beneath the surface.
This work is quite unlike anything you will have seen before and may even be more exciting than the Danish royal nuptials.
Idea, staging, set design and lighting by Sara Topsøe-Jensen
Music and sound by Rasmus Christensen
Performance and choreography by Kristofer Krarup and Cindy Rudel
Technical management and lighting by Karsten Nisbeth
Set design by Karsten Nisbeth and Troels Lindebjerg
Voice-over by Lars Høy
'Carte Blanche has created a totally unique and unusual performance about evolution of life. It is truly a performance of such a kind, that you only rarely can experience'.
Herlev Teater, Denmark
VENUE
25 Lyttleton Street, Castlemaine
DATE & TIMES
Saturday 16 March 1pm and 3pm
Sunday 17 March 1pm and 3pm
ADMISSION
DURATION
ACCESS
Adults and children aged 10 years and above
DISABILITY
ACKNOWLEDGEMENTS
Presented in partnership with
ArtPlay, City of Melbourne, Danish Arts Council


FOOD & BEVERAGE
Pre-show wine, beer, soft drinks and snacks
| | | | | | | |
| --- | --- | --- | --- | --- | --- | --- |
| M | T | W | T | F | S | S |
| | | | | 15 | 16 | 17 |
| 18 | 19 | 20 | 21 | 22 | 23 | 24 |
Posted in Children, Dance, Saturday March 16th, Sunday March 17th, Theatre