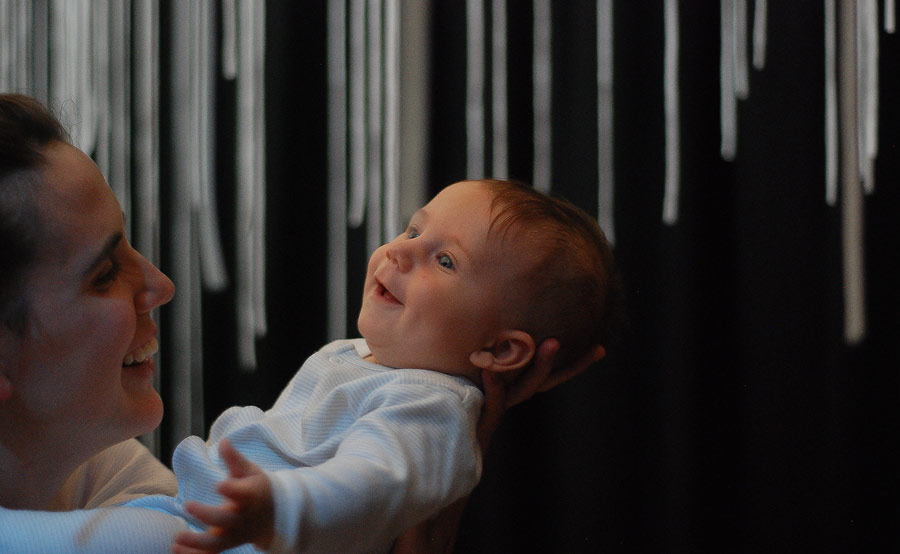 Image Credit: Mardi Thorpe, The Seam Collaborative
Drop Bear Theatre, The Seam and Edwina Cordingley
Rain offers an utterly unique experience to share with your baby. A performance that celebrates new lives and welcomes babies to the world, in which you will wonder and wander amidst the rhythm of rain.
Carers and their littlest ones will be immersed in an installation full of surprise, delight and opportunities for connection through sound, touch and performance — a moisture-free exploration of the multi-sensorial generosity of rain.
'Beautiful, peaceful experience for both bubs and parents'
audience member, Artplay
Created by The Seam and Drop Bear Theatre
Music Design: Edwina Cordingley
Performed by: Zoë Barry, Sarah Lockwood, Carolyn Ramsey and Edwina Cordingley
Lighting Design: Sophie Kurylowicz
www.dropbeartheatre.com
www.theseam.com.au
facebook.com/DropBearTheatre
facebook.com/theseam.collaboration
twitter.com/DropBearTheatre
This show was created specifically for babes in arms and crawlers. Some aspects of the performance and installation will not be suitable for older babies.