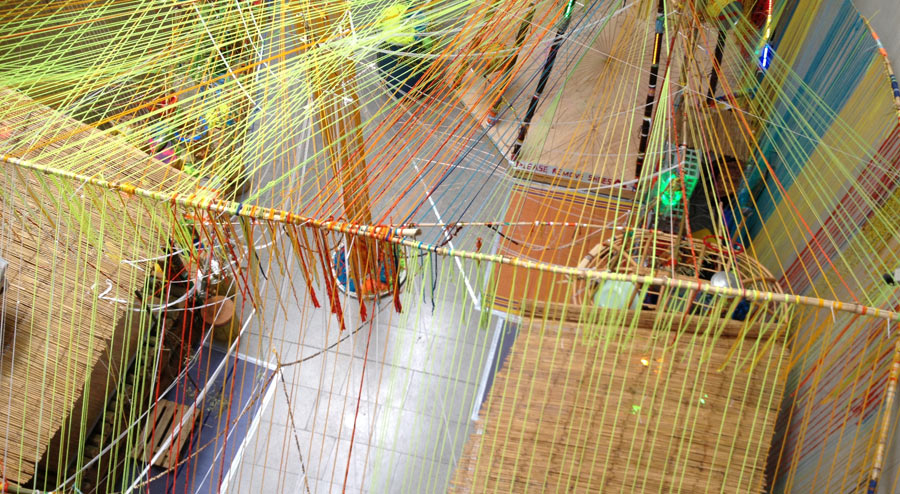 International Arts Mentorship Program
NEWLY COMMISSIONED WORK
Slow Art Collective (Chaco Kato, Dylan Martorell) Edgar Hechavarria Ricardo, students from Castlemaine Secondary College
Loomūsica is the Castlemaine State Festival's signature arts mentorship project bringing together Slow Art Collective, Cuban artist Edgar Hechavarria Ricardo, and students from Castlemaine Secondary College. Together they will create a site-specific installation that honors the manufacturing history of the former Castlemaine Woollen Mills. Utilising re-purposed materials found on site and incorporating kinetic sculpture, robot components and basic DIY electronics, Loomūsica plays with the notions of loom and harp.
This adventurous collaboration offers an opportunity for our local young people to work with prominent Australian and international artists to explore sustainable practices and concepts of value: cultural, place, societal and material.
Slow Art Collective is a Melbourne-based artistic collective that focuses on creative practices and ethics relating to environmental sustainability, material ethics, DIY culture and collaboration.
Edgar Hechavarria Ricardo is based in Havana, Cuba. A former member of the acclaimed radical collective 'Enema', Edgar has exhibited extensively in Cuba and internationally. Loomūsica is his first work in Australia.
 'Given the spaces are already, quite simply amazing, we want to create a work
that triggers memories, as if the room itself is lost in thoughts
of its previous life'.
Dylan Martorell,
Slow Art Collective 2014
Acknowledgments
Castlemaine Woollen Mill, Harcourt Lions Club